Steinway pianos — on display in our showroom or currently being rebuilt by our Steinway Academy technician David Salmon.
In our Showroom
Steinway O - SOLD
Rosewood 180 cm
This Steinway Model O grand piano was beautifully restored and restrung by our Steinway technician David Salmon. The rebuild included restringing, new bridge caps, new hammers and the replacement of many action parts and felts. They resulting tone is typically Steinway, with the power and clarity that makes this instrument sound like a larger grand piano. It has a huge dynamic range and a rich tonal palette that stretches from warm and mellow to a shimmering brilliance with bell-like overtones.
In the Workshop
Steinway B
Rosewood 210 cm
We are waiting for the new soundboard to arrive from Italy. It is being made by Ciresa with timbers from the Fiemme Forest, famous for the high altitude spruce trees that Stradivarius used for his violins. Once it arrives, our Steinway rebuilder David Salmon (ARPT PTTG Steinway Academy) will fully rebuild this piano: new soundboard, restringing, rescaling, new bridges, new hammers shanks & rollers etc. David and I service a number of Steinway B pianos for our customers; we know this model well and we both are confident that this particular instrument will sound superb, virtually like a new "B".
Rebuild Complete
Steinway D
Rosewood 270 cm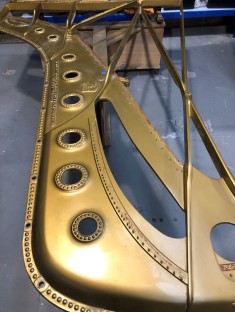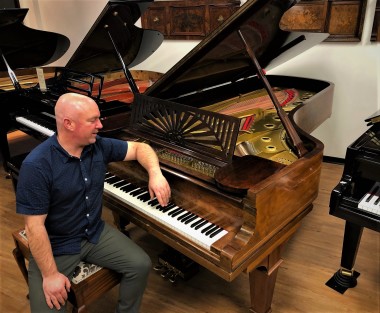 With new bass and treble strings, re-designed bridges, recalibrated crown and scaling we expect this "D" to live up to its reputation as the piano against which all other concert grand pianos are measured. The action and keyboard have also been overhauled with new hammers shanks & rollers, damper and action felts, key bushings, etc.
If interested, please feel free to contact Wytze about visiting our Grand Piano shop to inspect and play this magnificent instrument. Congratulations David, a monumental success!
In the Workshop
Blüthner 229
Rosewood 229 cm
Not a Steinway, but we'll let it take pride of place on this page:
This Blüthner 229 has been painstakingly overhauled — no effort was spared in the full restoration of this beautiful instrument. Most of the work was done over a period of three years by Wanaka based technician Gavin Secker, while David Salmon completed the rebuild in our Ferrymead workshop.
Interested in discussing the purchase of a world-class piano?
Come down to our showroom or get in touch with us today to see how we can help.